You may have come across terms such as 'cloud infrastructure', 'virtual desktop', 'multi-session' and RDS (Remote Desktop Services) without fully knowing what the implications or possible benefits are for you and your business in reality.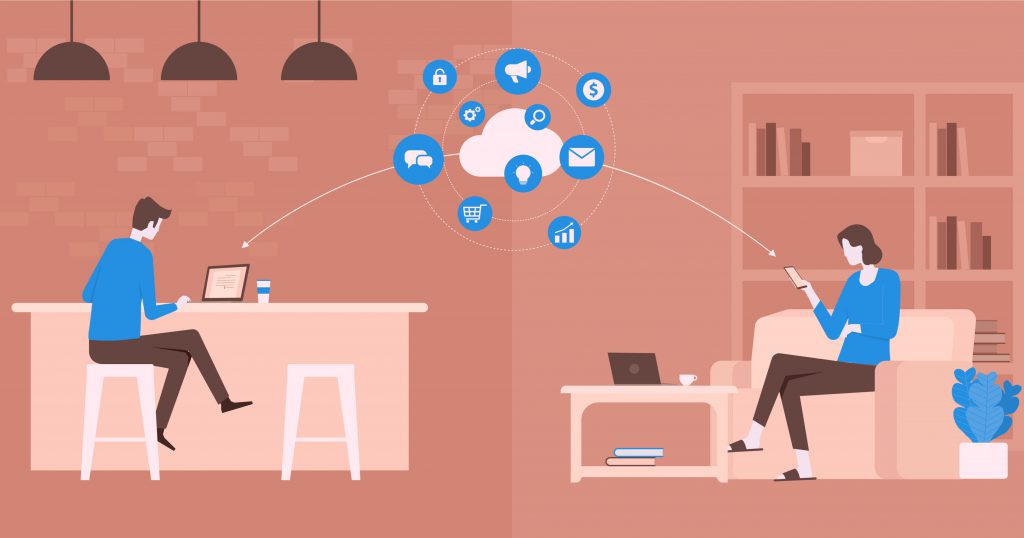 We thought we would explain virtual desktops for anyone who would like to understand how the concept works.
First of all, we are all familiar with our own computer desktop which we see when we boot up and log in to our PCs or Macs at home or at work. It's the home hub from where you start your programs, save your files and shortcuts, and navigate between your windows. This desktop 'lives' on your computer, and does not require internet access to run, although the programs within it might.
You will certainly know that your home desktop will vary quite a lot from your desktop at work. First of all, a home desktop often has different uses. Handling personal data, saving your photos, memories, contacting friends, watching movies – whereas your work desktop will have access to business files, programs and possibly sensitive data.
The concept of a virtual desktop is that your work desktop resides and is securely accessed in the cloud. This means you can access it whenever you need to from anywhere on any device. All you need is an internet connection.
Businesses now have been faced with a very sudden and blunt event – the Covid-19 pandemic – which has resulted in many being pushed into allowing their staff to work remotely – perhaps even if this is not ideal or if the infrastructure is not in place.
Windows Virtual Desktop is a Windows 10 desktop made available to you whenever you need it with access to all your apps and a data without the need to install client software or setup VPN connections.
At Nuvem Logic, we specialise in delivering Windows Virtual Desktops solutions build on Microsoft Azure. Windows Virtual Desktop provides the perfect balance between ease of access and the requirement to meet company security and compliance policies.
Nuvem Logic are currently running a promotion offering free consultation and deployment, typically worth around £3,500. Get in contact today to take advantage of this offer or to discuss how exactly it might work for your business.
---