How confident are you that your business is fully regulated and compliant with all relevant rules and regulations? Nuvem Logic are well positioned and experienced to provide support and guidance to help you navigate what can be a complex regulatory landscape. Ensure your business is meeting its obligations to steer well clear of any potential fines or damage to your brand reputation.
Get a single pane of glass view of your regulatory and compliance posture in real time with Nuvem Logic
Key Features
Microsoft 365 benefits from intelligent compliance and risk management built in to its core. Key features of our Compliance servicing are:
Responsible Operating
Compliance is a shared responsibility between CSPs and their customers; we make sure you are upholding your part for your customers' sake and your own. Be confident that you are complying with all national, regional, and industry-specific requirements that pertain to your business, including the regulations around collection and use of data.
Compliance Scoring
Microsoft Compliance manager will help you manage your compliance requirements throughout the entire journey, from initial inventory to managing control implementation and keeping up-to-date with changes in regulations, obligations and certifications.
Understand your compliance posture through your overall compliance score, calculated by Microsoft and based on your data protection baseline which will identify areas for improvement or flag any issues for immediate attention.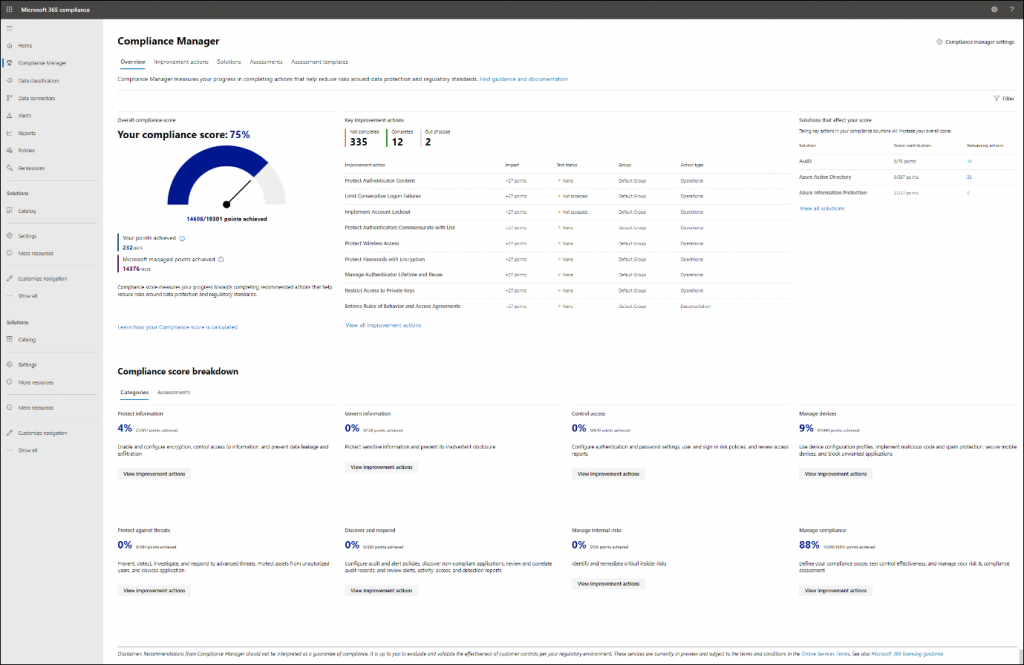 Azure Policy
Azure has over 90 compliance offerings;
Workflow Capability
Effectively manage your risk assessments through a single tool; Compliance Manager
Auditing
Verify the requirements for your technical and control obligations and where your business sits within the dynamic regulatory environment.
Resources