In the past 18 months, the way we work has changed drastically. Many employees have gone from working in an office for their work week, to working from home, and now organisations are starting to roll out hybrid working schemes as restrictions ease. Whilst remote or hybrid working, some of the key challenges employees face are balancing productivity and wellbeing, staying connected to other employees, and having quick access to information and expertise in a business whilst not being physically close to other departments. Microsoft aims to address these challenges through Microsoft Viva, an employee experience platform designed to foster an organisational culture where people and teams are empowered to be their best from anywhere.
Within Viva there are four modules working together to aid the productivity, wellbeing, and education of employees. This article will discuss how these modules can help support hybrid working.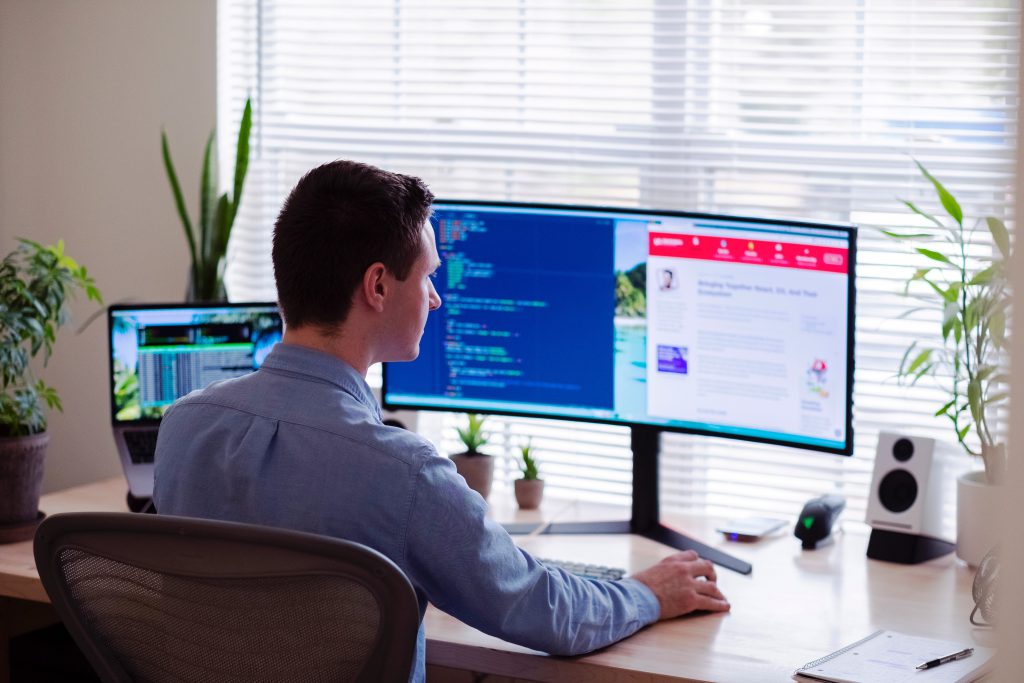 Viva Connections
Viva Connections is the gateway to the Viva platform and helps employees stay engaged and informed by giving them access to all the tools they need. It allows employees to discover relevant news, conversations and tasks to stay connected to the wider business. The platform is build on the existing capabilities within Microsoft 365, such as SharePoint and Yammer, however organisations can personalise the experience to suit their brand.
Whilst remote or hybrid working many workers feel less connected to their team and this module aims to address this. Viva Connections can support hybrid working as it acts as a central experience to give employees access to relevant company-wide information all in one place to ensure employees feel connected, regardless of where they are working. Organisations can start using this module at no cost if the users are licensed for Microsoft 365 and SharePoint.
Viva Insights
Viva Insights is designed to help employees manage the balance between productivity and wellbeing. This module uses a variety of data points to give personalised and actionable insights to empower teams to built better work habits and improve business outcomes. Manager also have access to privacy protected overall trends to ensure they are effectively managing their team's workload and overall stress levels.
Unfortunately, over the past 18 months many employees experienced burnout from overworking whilst remote working. This trend may continue as organisations implement hybrid working schemes. For some, working from home made it difficult to set clear boundaries between their home life and their work life. With Viva Insights the recommendations should help alleviate these stresses and lead to happier, more productive employees. Viva Insights for employees is included with a Microsoft 365 subscription and can be found within the Teams app.
Viva Topics
Employees spend about an hour a day searching for, or recreating, information. If this can be addressed it would potentially give employees an additional five hours a week to work on growing a business and providing a better experience for its customers. Viva Topics is an AI-powered solution that automatically organises content across systems and teams to allows employees rapid access to content and knowledge. It splits content into related topics such as projects, product, processes and customers that can be shared via highly customisable web pages.
This module can aid hybrid working as it allows employees to access information without needing to spend time searching through systems or asking other departments to spending their time recreating content.
Viva Learning
In order for a business to have sustainable growth, it is important that employees are empowered to continue learning and developing. Viva Learning delivers education through Teams with content from multiple world-class learning providers. Having all learning resources in one place makes it easier for employees to make learning a part of their role. Viva Learning also empowers leaders and employees to design and track education that is aligned with business outcomes and individual goals.
With a traditional office working environment, training and education was delivered in person through learning providers. With remote and hybrid working this poses a challenge of ensuring all employees are in the same space at the same time. With Viva learning, employees can still have professional development, regardless of where they are located. As the content is on-demand, it also means that employees can learn at their own pace.Each module within Microsoft Viva can support hybrid working and an organisation as a whole. However, the four modules can work together to create a more productive, educated, connected and happy workforce. If you want to find out more on how Microsoft Viva can support your business, get in contact with us today.